Food, France and an expert American expat who offers cooking classes. A trifecta indeed for someone like me who loves to eat, loves France and wants to learn even more about cooking seasonal, French cuisine.
During the first week of July this summer I had the opportunity to attend a three-day class taught by Susan Hermann-Loomis in her historically located home in Normandy, specifically, the town of Louviers.
To say we ate well, is far from an understatement. To say I walked away with more knowledge about how to navigate and successfully cook in the kitchen, absolutely and then some!
Cooking classes are offered in one, three and five day windows, and while she teaches many classes in her Louviers home, she also teaches in Paris and around the states when she crosses the pond from time to time which is where I met and took my first class with Susan.
But to cook in her kitchen in Louviers is a dream locale. Located directly adjacent to the Notre-Dame de Louviers cathedral which towers above the town in its gothic opulence, it is a stunning sight to see day or night as I had the opportunity to do every time I stepped into Susan's courtyard.
Upon stepping into her courtyard, her house, and then her kitchen, having read her memoir On Rue Tatin: Living and Cooking in a French Town, is to step into the book itself.
One of Hermann-Loomis' many books, but this memoir is a great place to begin before attending her cooking class.
And the kitchen. A cook's dream. During the remodel, they added more daylight which creates an even larger space and makes it the hub of the home. The large island in the middle of the room has its own story, and was custom designed, carefully adapting the antique table they found and making it a brilliant and functional piece of kitchen furniture.
Looking around the kitchen, my gaze was always captured by something that she had placed on a shelf – teacups and saucers, copper pans, small tools, baskets – everything is used in the kitchen and most have been purchased throughout her nearly four decades of living in France and visiting brocantes across the country, Europe itself and Northern Africa.
While I will be sharing more specific tips she shared during class in the upcoming season of The Simply Luxurious Kitchen (premiering September 7th), what I appreciated most when I took my first class with Susan this past December and then again during this three-day class in Louviers is that she is a teacher. She is not there to entertain and let you sit back and just nibble and sip wine (don't worry, you will eat VERY well and drink wonderful wines with each meal). Nope, you are there to learn, to try, to make mistakes, to be corrected and then to find success.
From the simple knowledge of knowing how to properly hold a knife, how to sharpen a knife blade (use this tool (a flat diamond knife steel, not round) for home use, but be sure to go to a professional knife sharpener regularly – once or twice a year) to learning how to scale sole (I appreciate my fish monger SO much more now) and how to make delicious sauces, after three days you will notice you have more confidence in the kitchen and cannot wait to step back into your own home and give it all a try.
As an instructor of French gastronomy, Hermann-Loomis shares a wealth of knowledge about food, France and the food culture. We enjoyed butter tastings, a trip to the nearby town's market on our last day of class, discussed different oils to use in cooking and preparation, as well as which tools in one's batterie de cuisine were must-haves in the kitchen (one of them is this triple OXO timer which was used regularly while we there as we had multiple items either in the oven or on the stove).
It is hard to choose which part of the cooking class experience was my favorite, but after each 2-3 hours we spent in the kitchen, we followed the preparation by sitting down to enjoy the "fruits" of our efforts – a four course meal complete with multiple wines, a cheese course (oh my, the fromage!!!! Okay, maybe that was my favorite part simply because we cannot enjoy such cheese in the states – I savored every morsel!) and one evening we sat out under the star and the glowing lights of the cathedral and sipped our digestif made by a local cider purveyor.
The table was always thoughtfully prepared but nothing fussy. No, rather, it was welcoming, complete with vintage linens and dishes and finished with fresh blooms clipped from her garden.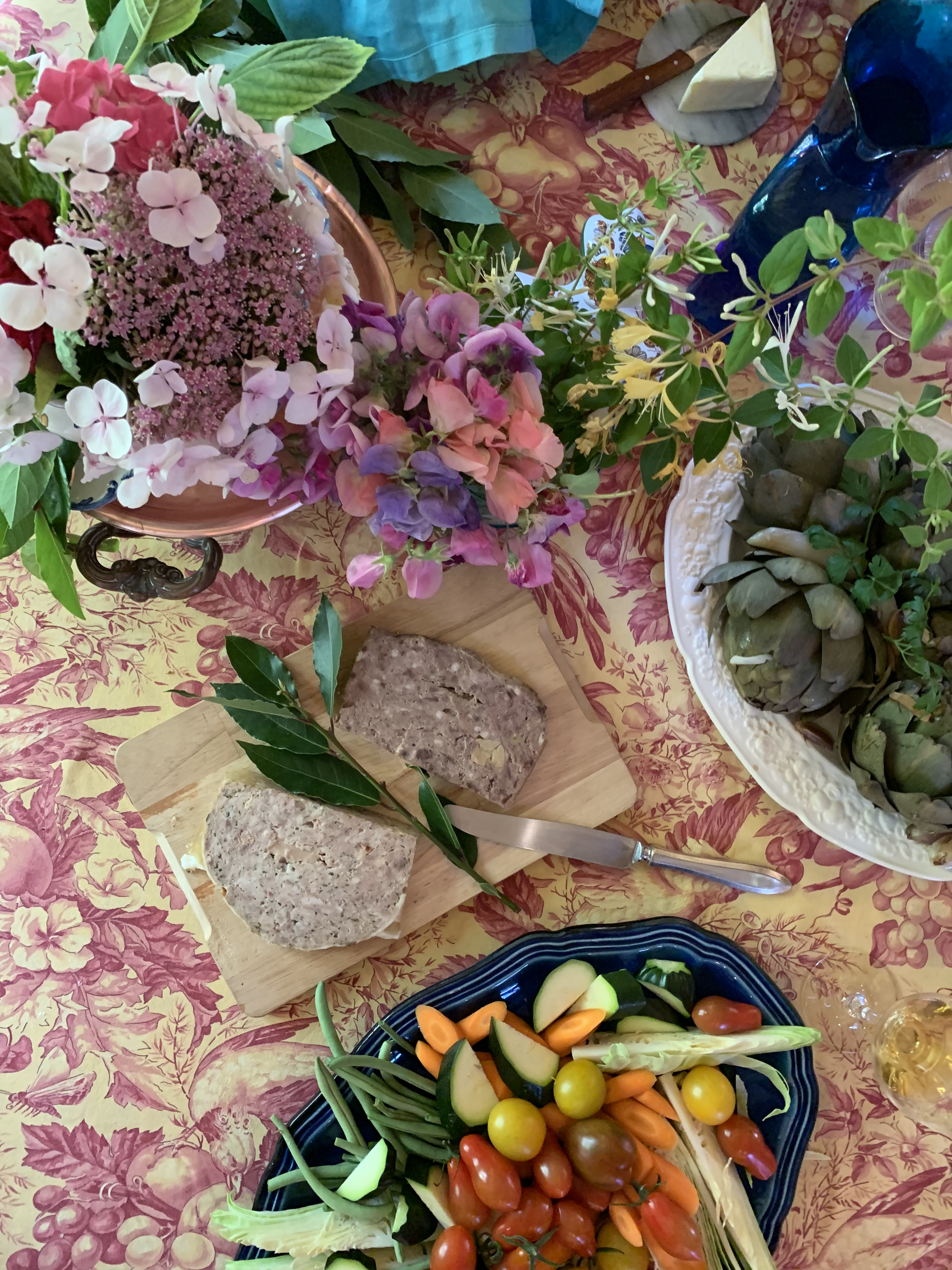 I highly recommend joining Susan for one of her cooking classes, and whether you can travel to France or not, there are opportunities for you to learn from her expertise. Click here to visit her website and discover the dates of her class offerings.
I want to thank Susan for a wonderful experience, memorable moments, conversations and excursions. I walked away learning far more about what ingredients to use, new-to-me cooking techniques and an appreciation for all that she had done in her career and her community in Louviers. (and a big hello to Suzie, a fellow classmate, it was a pleasure to cook, dine and get to know you around the dining table)
~To view more pics and videos from my time in class, visit @thesimplyluxuriouslife on IG and click on Highlighted Stories – FR Trip '19 – Part 2.
~Be sure to tune in to The Simply Luxurious Kitchen as Susan and the class set in her kitchen will be included in one of the episodes this fall.
~View more Susan Hermann-Loomis posts below:
---
When you do reserve a class with Susan in Louviers, she will share with you recommended places to stay. One of her recommendations was where I spent my three nights in Louviers and I HIGHLY recommend it. La Foulonnière Maison d'hôtes for a long list of wonderful reason.
The hostess is lovely, warm and trés chic, allowing you your privacy, but also making you feel extremely welcome.
The location allows for walking to and from class each day.
As it is a Bed and Breakfast, you will have breakfast available each morning – fresh croissants that she has picked up that morning from the boulangerie.
spacious rooms with French windows and high ceilings.
Lovely grounds and garden.
Have a look at La Foulonnière below.
---
TSLL's 4th Annual French Week posts thus far . . .
SUNDAY August 11th
MONDAY August 12th
TUESDAY August 13th