What is The Simply Luxurious Life?
If you are seeking a life to savor every single day — the work days, the weekends, the 'me' days, the travel days, the Wednesdays, the Mondays, every single day—then this is the blog for you.
If you are trying to live your best life, yet want to deepen your appreciation for the present moment, this is the blog for you.
If you are struggling to figure out which one of your many strengths to tap into along the journey to reach their full potential, then this is the blog for you.
If you appreciate the importance of staying apprised of current events and knowing past events in full context, yet understand balance regarding intake of information must be found to suit your temperament and well-being, this is the blog for you.
If you find peace with simplicity, yet admit freely a home with an over-flowing bookshelf (or two) is not clutter but rather a necessity, then this is the blog for you.
If your peace of mind acknowledges the necessity of being a critical thinker, someone who while staying informed, acknowledges the need to rather than choose a side, choose the right question to ask and keep an open mind while listening, then this is the blog for you.
If eating well includes enjoying meals that are both healthy and delicious, then this is the blog for you.
If growing your own flowers and vegetables remains a dream, and an herb garden too, yet you are determined to figure out how to become a gardener, even if you don't have much (if any) diggable land, yet you appreciate the seasonality and sustainability of growing what you can where you are, then this is the blog for you.
Oh and don't forget the style quotient.
If you are someone who loves to dress well, but could do without the fuss and confusion of each season's trends, let's just say it, if the effortlessly chic style of the quintessential French woman or man speaks your style language, and if only you could figure out how they do it life would be complete, then this blog is for you.
And lastly, if all you crave is to feel at peace when you wake up and go to sleep at night, knowing you have a sanctuary to rejuvenate your being and a life lived with thoughtful, loving intention, then this is the blog for you.
Living simply luxuriously is for you if you are seeking a life of quality over quantity in every arena of your life, and if by chance you are a Francophile or an Anglophile, just as I am, you are going to be in for a very special treat, as much of my inspiration comes from my time traveling and studying in France and Britain. But don't worry, you don't have to be enamored by France or Britain to live simply luxuriously. If you simply want to live a life that eliminates what is unnecessary and elevates what is a priority all the while making an everyday income, you have found your home.
Welcome to The Simply Luxurious Life (TSLL).
The Simply Luxurious Life came into fruition in 2009 when I realized the life I enjoy living—a life full of simplicity, yet punctuated with everyday luxuries found even in the most routine of days, was something I wanted to explore more fully due to the immense contentment it brought into my life. In fact, I needed to explore it more intentionally because while many people didn't understand how I could live well and contentedly on the everyday income as a public school teacher (I retired in 2021 after twenty years), I had a curiosity for the world, especially the French culture followed by my appreciation for the British countryside and their gardening wonderland, that wasn't entirely being satiated by working in the classroom. And this is an example of our lives speaking to us.
Thankfully I listened and decided to share my discoveries, passions, and ideas as a way to inspire others so that they too could find their passion as a way to living a life full of true contentment by clearing out the clutter (figurative and literal) and bringing in the luxurious necessities to enliven and inspire each day no matter what their income, age, location or relationships status.
The question most often asked is What exactly does a simply luxurious life look like? The good news is there is not one 'way' to live the simply luxurious life. However, core principles make up the foundation that will enable you to reach your full potential and live the life you may only currently imagine in your dreams. Have a look at the video above to see what I'm talking about.
The most misunderstood aspect of living simply luxuriously is understanding the true meaning of the word luxury. By definition, luxury is anything that brings comfort. The comfort need not be tangible, but whether conceptual or sleeping in a bed made with French linen sheets, the key is appreciation so as not to take it for granted. Therefore, the true definition of luxury embodies a life lived intelligently, thoughtfully and sincerely, thereby experiencing fulfilling true contentment every day.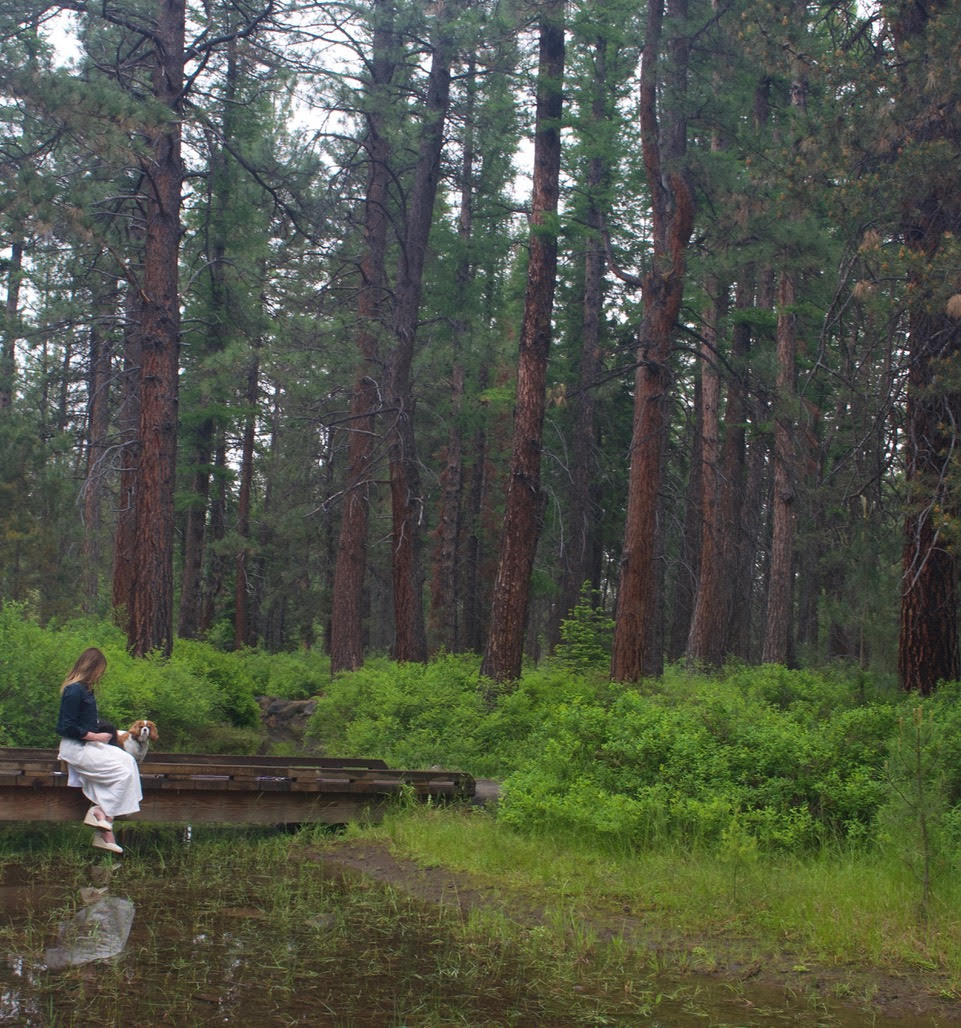 Where it All Began
I had the good fortune of growing up in a dream of a small country town at the base of what many call the mini-Swiss Alps in Wallowa County, Oregon. And while this beautiful, community-focused approach to living played an integral and positive role in my appreciation for living well, without excess, for as long as I can remember, I have been asking questions and seeing life as a treasure hunt as I sought to reach my full potential.
Much more of how I came to love and appreciate simplicity paired with everyday luxuries is shared in the introduction and first chapter of my first book Choosing The Simply Luxurious Life: A Modern Woman's Guide. And I will let you know in advance, my life and much of my inspiration has indirectly or directly come from the dogs in my life. My two current companions Oscar and Norman, an English Cocker Spaniel and a Cavalier King Charles Spaniel respectively, are seen in the photos on this page. My first book, previously mentioned, which sold 10,000 copies in its first year of publication purely by word-of-mouth and genuine interest from readers of TSLL blog, lays the groundwork in great detail and in an easy-to-follow manner revealing how you too can create a fulfilling simply luxurious life of your very own.
Studying Abroad in Angers, France
While attending Western Oregon University and then University of Oregon for graduate school, I had the fortunate opportunity to study abroad in Angers, France, which whetted my appetite for all things French and has instilled in me a passion for curating a more refined, stylish, simple, and pleasure-filled way of living that I regularly try to incorporate wherever I may be living. Since my first experience, I have returned a handful of times. You can take a look at my trips here, here, here, and here. (And for all of my posts inspired by my fascination with the French culture, click here.) I have also continued to humble myself by continually trying to improve my French language skills. Take a look at what I learned so far in my French classes in these two posts: here and here.
A Discovery Found While Driving on the Left Side of the Road
As is often the case with travel, so long as we remain open to what the universe would like to reveal to us, we discover awesome insights about ourselves and instructions about the direction of our life moving forward. It was a spontaneous trip to Devon, England, during the week of Thanksgiving 2017, staying in a hilltop cottage with a beckoning soaking tub overlooking the Bristol Channel where I recognized my unconsciously long-led affinity for the British countryside and culture. From the oft-common rainy days that I deeply savor, the predilection to enjoy a cup of tea for comfort and conversation, and the opportunity to stroll on the terra firma of the country I had studied so much about in undergrad as I attained my literature and history major and minor, I found a sanctuary unexpected (and I must not neglect to mention the deep affection for dogs in Britain spoke to me quite immediately as well). In fact, I was so inspired that I taped the pilot episode of my vodcast The Simply Luxurious Kitchen while staying in my vacation rental. Read more about my many aha moments in Devon here.