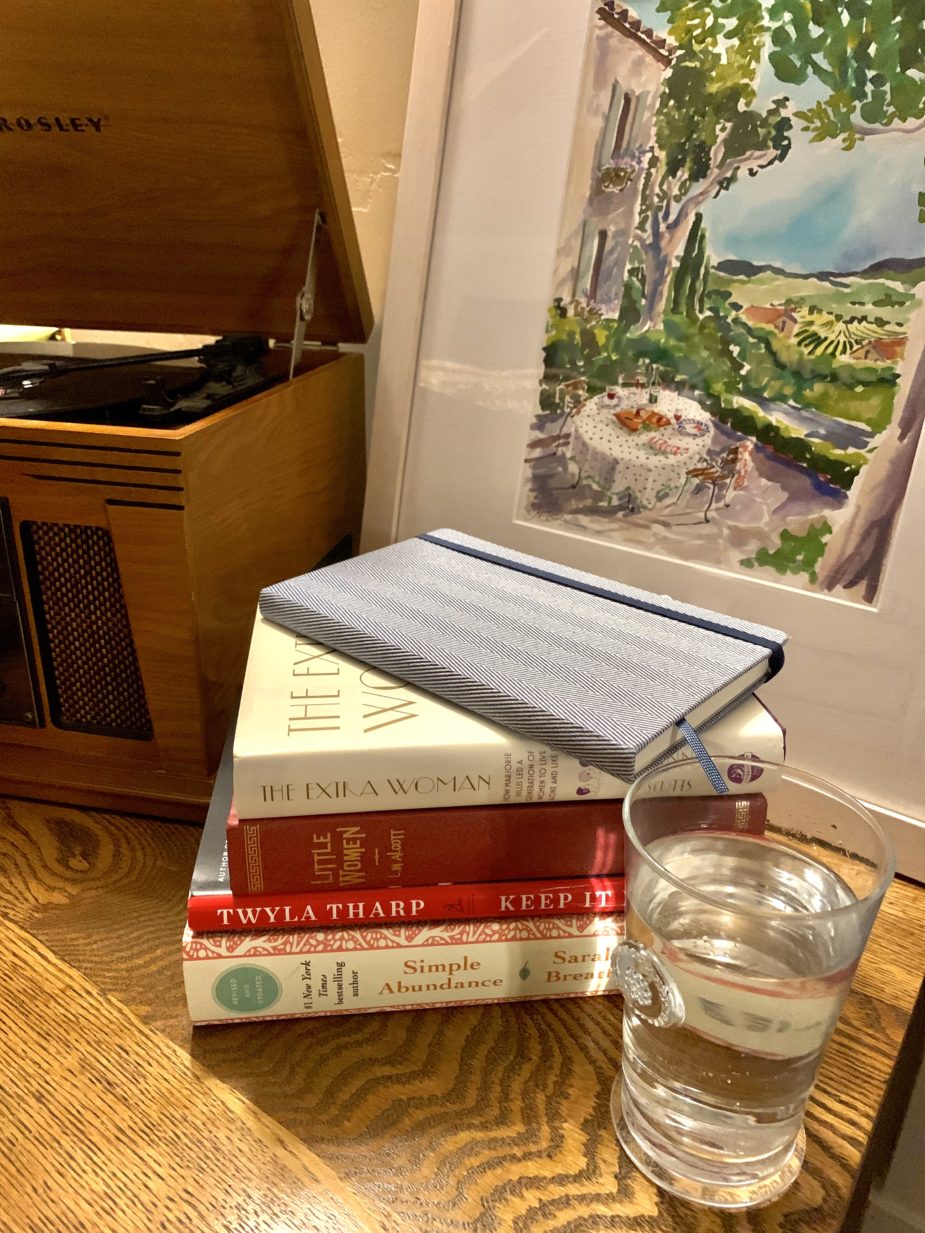 ~In lieu of the weekly This & That post (as I am supposed to be on my annual week-off! :)), a post of ponderings on how to end the year well, as well as an introduction to not only who I am (although, I have a feeling most TSLL readers already know :)) as well, and most importantly, who the community of TSLL is and why you, new or long-time reader, are welcome here as you go about cultivating your unique life journey.)
My head swims in deep waters of thoughts, hopes, fears, appreciation, self-congratulation as well as self-condemnation. My time is free and unequivocally mine, so pressure is placed to make the most of this gift that is a week of freedom, quickly followed by a deep breath and utterance of "whatever I do will be what I need and it will enough" to myself silently.
In a recent IG post, a reader who lives in Germany shared with me the phrase "zwischen den Jahren", and her explanation of what can be translated to mean "between the years" caught my attention.
As a teacher who has created a life of my own, the two weeks of holiday given by the school's annual schedule to end the year and begin the new year are a treasured time. As shared just days ago, it is a fertile time for ideas. I sometimes wonder if I had such time 52 weeks of the year, what might I be able to create? But then I remember, I have to pay for health insurance, as well as a mortgage, oh, and that trip back to France is not going to pay for itself, and I must not forget retirement savings! 🙂
Having an abundance of free time can also be difficult for some if the muscles are not in as great of shape to dance and dance well or simply relax and relax well. For example:
After spending time with family in which while there may have been wondrous, memorable moments shared, most of us (or is it just me? No, it is not just me.) will admit to our journals that there were also moments that either broke our hearts or at the very least remind us of how much our everyday lives need to be appreciated all the more, as we are often grateful to return to them.
Our brains and beings are exhausted, perhaps more than we realize from extended travel and experiencing new situations and routines, and sleeping in another bed that we are not accustomed can take its toll if only because we are tip-toeing to use the bathroom and do not know where the light switch is to be found, and so our minds run to comparison when we see old friends or family we haven't seen in months or years (in person, in holiday cards or via social media feeds). We may applaud ourselves, but then we scold ourselves for doing so, or we may berate ourselves, but then remind ourselves to be kind and honor our journey as we each are traveling our own. But note, the behavior we know we should not engage in occurs as our will-power and mastery over our mind is lessened due to the energy zapping that is the holidays.
If we have had a most memorable and unforgettable time with our family and/or friends, returning home to our everyday lives jolts us, shakes us even, and may even provoke yearnings either for what was or what we hoped something would be.
The holiday hangover is real and takes a day or two or maybe more to be alleviated, and if we are not consciously aware that such a emotional feeling exists, we may think we are stuck. But the good news is, we are not.
I admit openly, I share this understanding because I have experienced this feeling each year; however, with each year, my awareness of the realities of the ebbs and flows of our emotions during what for me is a time of year I cherish has enabled me to shorten the "holiday hangover period" as I am going to call it. The process of successful transition follows this order: (1) examine, apply and toss what is helpful life fuel and unnecessary fodder respectively either in your mind or in a journal or both (perhaps on the long plane, train or car ride home); (2) slip into the beckoning bed in your own sanctuary for a deep restful night's sleep; (3) wake up with a fresh mind followed by taking restorative deep breaths and a day that you make your own for rejuvenation.
Now, the "between the years" time begins, and it is yours to savor and linger about in while you acknowledge your unique journey, appreciate but not become consumed with others' ways of living that do not align, but may inspire tangentially your own.
How I enjoy spending "between the years" time is to write, create, plan, organize, seek out inspiration, sleep, read, each profusely or as little as what calls as necessary (the amount changes by the hour).
So after six days of not looking at a computer screen, I was itching to pull out my laptop and write. Today's post was not planned, but it was needed as an outlet; and as was the case 10 years ago, I began to write what danced about in my head and am doing my best to turn my everyday ponderings, wonderings, questions and hopes into something productive. I was asked recently what my end goal is for the blog – the question: Do you want to blog for 10 more years? – and my response was It is my oxygen. I will write until the day I die whether people are reading or not as TSLL began and at its genesis will remain my minute space in this grand world to work through, offer my humanness and my life journey ahas and if by chance they connect, offer reassurance or comfort or inspiration to others, then I feel fortunate to have contributed positively in some small way. I recognize that not everyone's "oxygen" is writing, but my hope is for each TSLL reader that you find what your oxygen is and welcome it into your life regularly, guard it like a mother over her cub who needs a safe space to live and grow and explore with abandon, and do not apologize, nor feel guilty when you don't apologize.
As I mentioned, with each year, the transition from holiday gathering to time to just be in this final week of each year well has become swifter with each passing year, and below are the 13 ingredients I gather up or prepare for a nearly foolproof recipe of restoration, clarification, resolution and exhilaration (adapt to your own predilections, needs, pleasures and joys) :
A space, a tidied space, to call my home
A trip to the grocery market to pick up items for a handful of meals to make in the coming evenings – my first dinner upon returning home is usually a beloved and simple, but of course scrumptious pasta dish. Last night it was this highly recommendable recipe by Nigel Slater
A fresh new journal to prepare for and then begin auspiciously the new year. To borrow and adapt Anne of Green Gables' words, fresh new pages with no mistakes it upon them (in my words – after all, each mistake shall be new and not a mistake at all, but a lovely hiccup offering learning if we should seize it).
A project or two planned that will lead to a positive change in the new year or in the coming first months of the new year – mine will be to work on my mood boards for my home's decor and figure out the color scheme.
A task or two that will enable the new year to feel less burdened and therefore liberate you from a stress that is lingering – mine will be wrapping up my business budget for my blog in preparation for the upcoming annual tax appointment, and then, something I will enjoy far more, organizing my office for maximum efficiency and creativity.
A book or two to dive into. I suggest more than one (whether purchased, received as gifts or picked up at the library) as you will want a book to suit the mood you find yourself, and this can shift from day to day or morning to afternoon to evening. (Note: if you prefer audio books, don't forget to use my promo code that will give you one free Audio Book +2 Audible Originals – visit https://audible.com/simplesophisticate)

Currently, I am reading or will be reading or just finished and recommend:

A plan for how you will enjoy the start of the new year. It need not be grand in the eyes of the world; it simply needs to be your way, a way that brings you joy and allows you to experience an auspicious perspective on the new 365 days that lay ahead.
A bit of pampering. Whether you book an appointment at a spa or give yourself a gift you would not normally give yourself, ensuring your self-care routine is humming along well will offer an opportunity for rest and perhaps clarity about your direction, resolutions, hopes and determinations for the new year. Any one or a combination of these 31 ideas for self-care are wonderful ways to pamper yourself.
An outing with a friend or friends to just be yourself and they themselves. Short or long, morning, afternoon or evening, spending time with those whose company we enjoy is good for our health and well-being and spirit.
A plan to visit or view a movie or exhibit or play or event that you are curious about. The viewing can be in your own home cuddled up warm under a blanket or out and about with the crowds; remember, this "between the years" time is yours to feel rejuvenated, relaxed and most contented.
Good and restful and restorative sleep for many nights in a row. If practicing this step has not been part of your daily life, you will feel a jolt of alertness, clarity and calm, and perhaps the realization of how necessary such an ingredient should be in each day and week of our everyday lives.
Time to sit down and reflect on the year that is concluding as well as a permanent place to share what you have discovered, learned and how you have grown. This post shares ideas for wrapping up the year well and preparing for a grand new year.
The skill of flexibilty and forgiveness (in other words, if you are a planner, write your schedule for the days of this week in pencil ;)). Your body and mind will let you know what you need as well, and honoring what is been craved – i.e. more rest – will serve you well and further ensure an auspicious start to the new year.
Arguably, the end of this particular year – 2019 – due to it being considered by most to be the end of the decade (read/listen to the debate regarding whether it is or is not the end of the decade here on NPR), prompts much reflection on the previous ten years. As I step into the decade that is my forties, having just celebrated the blog's 10th anniversary, I look forward to sharing my journey and bringing to readers' attention that a life of contentment and fulfillment in this decade will be unique to the woman or man who has the courage to live it in such a way that is most sincere to themselves regardless of what society expects. As a contented heterosexual, single and child-free-by-choice woman who does not share her romantic journey online, I hope to inspire every reader, no matter what their age, relationshp status, income or where they call home, to celebrate their own journey, to not shy away from living it fully, as well as be supportive of others who while theirs may be different than your own, not pass judgment, not make assumption nor compete by comparison (whether in our own heads or outloud/online) because I am confident – and there is much evidence in our world that positive progress is being made – that when we, especially women, celebrate each other AND ourselves, we elevate the journey each of us can uniquely travel. I have witnessed this to be true here in TSLL community, and I am grateful for each reader who has shared their unique journey, celebrates others' journeys upon reading their comments or simply applied something that inspired them here on the blog to live their own life with courage so that they can live with more contentment.
Readers in the past have asked that I share more about myself and my personal life; others at this moment after reading the above paragraph may be asking Why do you feel you need to share this Shannon?, but I have come to realize that many assumptions are made about me since I do share much (but not all) of my life online. And while some bloggers in similar shoes have made the choice to approach their online presence differently, when gaps are present, readers can fill in the gaps that are not given by the writer, and while often the "filling in" is benign, in other instances it can be hurtful or wrong and even detrimental to either party – writer or, but more often, the reader, and I want TSLL to be a helpful destination. Whether or not you are "a heterosexual, single, child-free woman in her forties" or a married man with three children whose wife is the bread-winner because he wants to stay home as his wife enables this opportunity while she pursues her calling in the professional world as well as raises her family, or a gay woman who is raising a family of four with her wife and revels in homemaking, or a divorcee who is finding their true voice and sharing it with the world, or a reverend who has inspired many congregants from coast to plains while living a life on her own joyfully so (by the way I am agnostic, and support each readers' faith as I so appreciate TSLL readers who support the freedom to believe (or not believe) as we choose), or a young man or woman in their twenties beginning their adulthood with curious exploration who has just graduated from college, or a gay man who travels the world with exhilaration but also savors his everyday moments at home with his partner, or a widow/er who has a lifetime of loving memories and has recently lost their life partner, or a married woman excited to begin growing a family with her husband, or a woman happily newly or long-time married living a life of contentment sharing passions with their partner childfree, but perhaps pet-full!; we each have unique simply luxurious lives to live and savor and cultivate.
Each of the individuals anecdotally shared above are each readers of TSLL, along with so many more living their own unique quilt-of-combinations as this is just a small smattering of the people and the lives they live who have introduced themselves to me via email, in DM comments on IG as well as in person. Our community is diverse, talented, kind, curious, courageous, loving and supportive. In other words, you are in good company if you need or wish to find a community to support and encourage you and celebrate you as you strive for what I have no doubt will be an awesome 2020.
But first, let's savor the "between the years" time, and thank you Hanna for teaching us through your comment of introduction to the German phrase how to savor this special gift that only arrives but once a year. Bonne journée. (Be sure to stop by on January 1st for a post to inspire you as the year begins.)