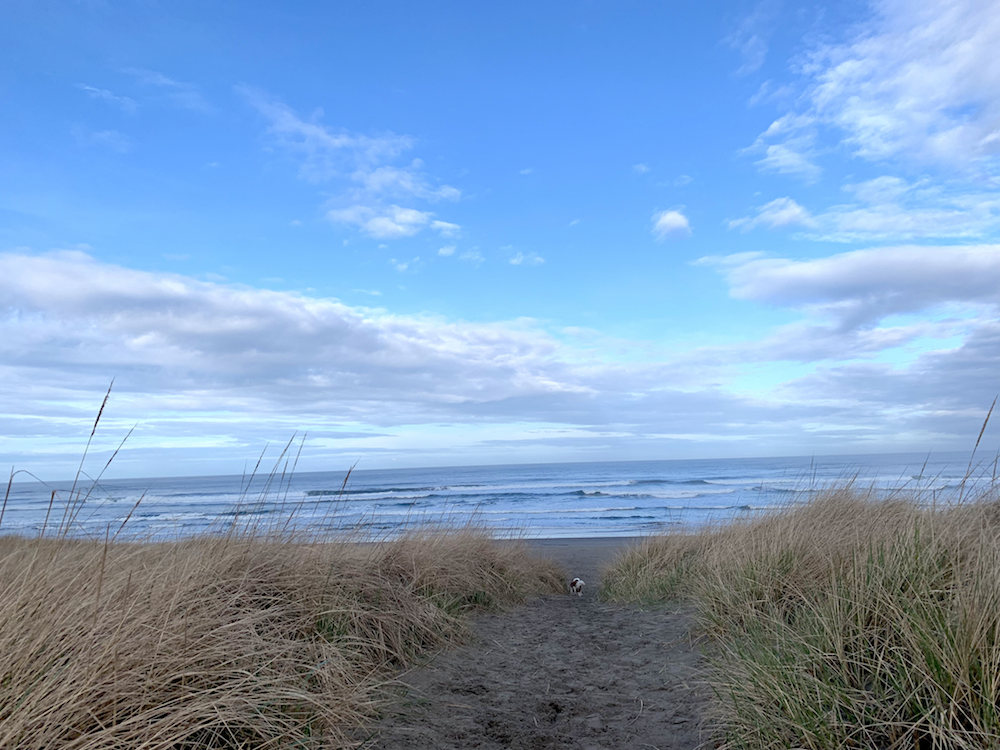 "I find there is a quality to being alone that is incredibly precious. Life rushes back into the void, richer, more vivid, fuller than before."
― Anne Morrow Lindbergh, Gift from the Sea
Seventeen months had passed since I last laid eyes on the Pacific Ocean, felt it dance over my boots, heard the lapping of the waves gently fill the entire space and watch the boys jaunt about in complete discovery mode. Seventeen months was the lengthiest drought of sea air I had let pass since the boys and I began visiting regularly in 2012.
I did not realize seventeen months had passed.
But I immediately observed the gift the ocean infuses into life, and thus the gift that I had not realized had been missing until the moment I saw it again after seventeen months.
A constant, comforting companion is ever-present when the ocean is near. As someone who enjoys solitude, the solitude at the ocean becomes a best friend of sorts that you cannot go a day or even 12 hours without saying hello, checking in or wanting to experience the ease it cultivates in your everyday.
Serendipitiously, over the this past weekend after returning home from the coast, the recent issue of Victoria magazine had been delivered, and their current book for their book club is Anne Morrow Lindbergh's memoir Gift from the Sea. While it was written more than 50 years ago, her observations of the gift of solitude and strength and comfort and creativity the ocean provides are timeless.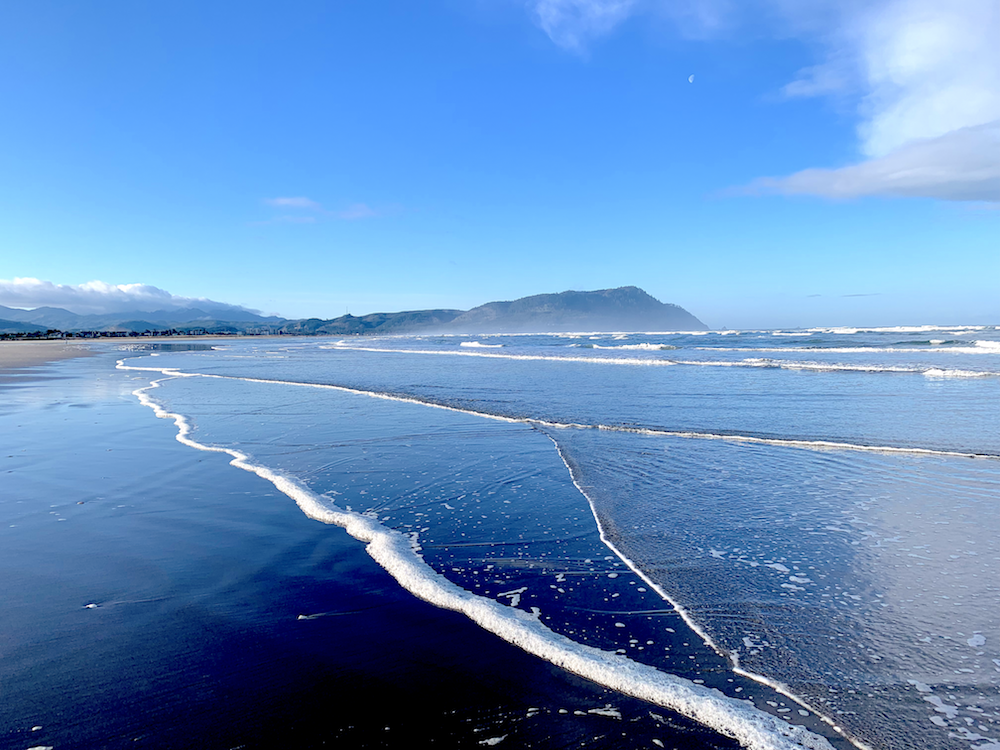 Not everyone finds comfort at the seaside, but it is the time with ourselves, wherever we find nature's comfort – a mountain valley, a running river, a quiet space as the rain falls down outside the window – that is priceless.
However, for myself, it is the ocean that is often the only natural source that has the ability to elevate the value of patience, in other words, MAKE me recognize of the power of patience in our lives.
"[The] sea does not reward those who are too anxious, too greedy, or too impatient. To dig for treasures shows not only impatience and greed, but lack of faith. Patience, patience, patience, is what the sea teaches. Patience and faith. One should lie empty, open, choiceless as a beach – waiting for a gift from the sea." ― Anne Morrow Lindbergh
It happened as I was walking on our first afternoon last week that I discovered a full sand dollar. It was quite early in our walk too; in fact, this picture was captured as Norman and I both found it. Unconsciously, I then began to look for a few more, but then reminded myself to look up, let the other sand dollars be, share what will be found and enjoyed by other beach combers, and let the ocean's soothing sounds and sights work their magic.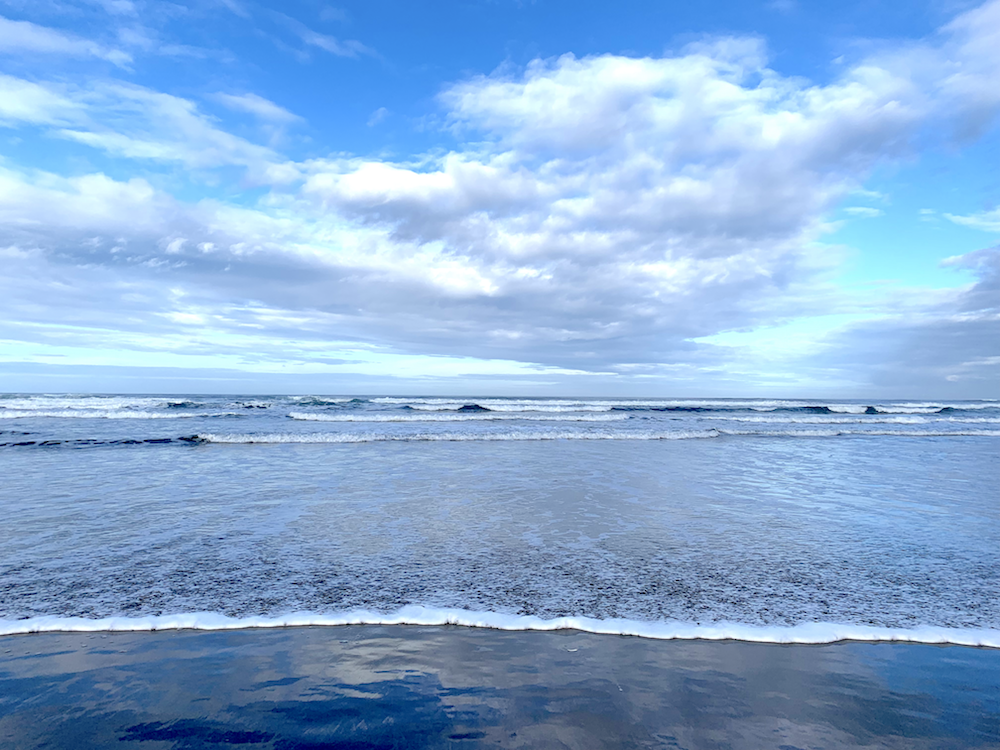 Each time we would walk down to the beach, the tide would be at a slightly or significantly different point offering new, freshly, brushed anew sand, fewer or more people and pups walking, the rain would sometimes be falling gently, then in a wash of fierceness, and a few times, the sky opened to share its blue creating glass-like water-coated sand.
"Only in growth, reform, and change, paradoxically enough, is true security to be found." ― Anne Morrow Lindbergh
As I walked, I often reflected on who I was seven years ago when I began visiting the beach with my boys. It was the first overnight vacation we had ever taken together away from family or friends, as I had saved up enough money to afford accommodations that welcomed dogs, and when we all saw the ocean together for the first time (Norman's very first time as he was three), it was a reason to celebrate and be giddy.
Complete rest, complete ease and permitting the mind and body to turn off their guard and recharge, the gifts of the ocean we're discovered during this first family getaway together to the coast and appreciated most certainly. Thus, why many subsequent trips have followed with delight.
"Woman must come of age by herself…
She must find her true center alone." ― Anne Morrow Lindbergh

The time we take for ourselves, by ourselves, has tremendous restorative power. Man or woman, thus human beings, when they give themselves the space to be, will find it easier to find themselves, or perhaps fall into themselves and the contentment that has always been there, but now is finally seen as the distractions have been moved aside.
"Not knowing how to feed the spirit, we try to muffle its demands in distraction…What matters is that one be for a time inwardly attentive." ― Anne Morrow Lindbergh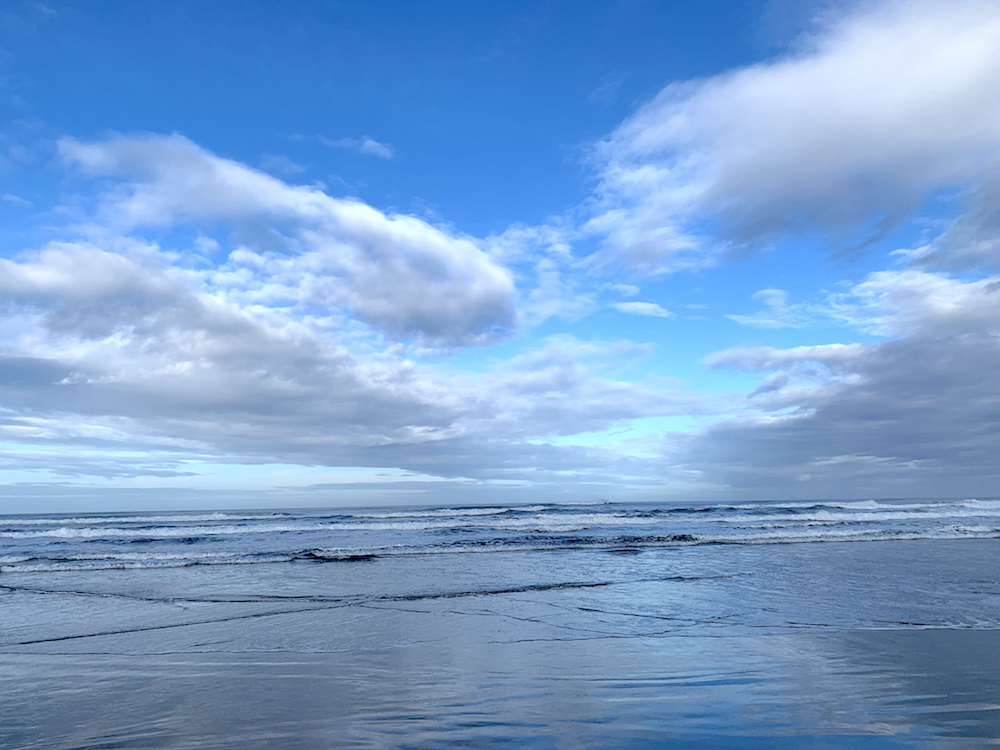 The person who arrived at the beach seven years ago possessed more potential than she could have fathomed, as well, many more life lessons that still needed to be acquired. The discovery the person who I find myself to be now is more certain of what she had an inkling was true seven years ago, and that realization was readily seen while wandering along the beach, watching the sea, paying no attention to time and only of the whereabouts of my boys.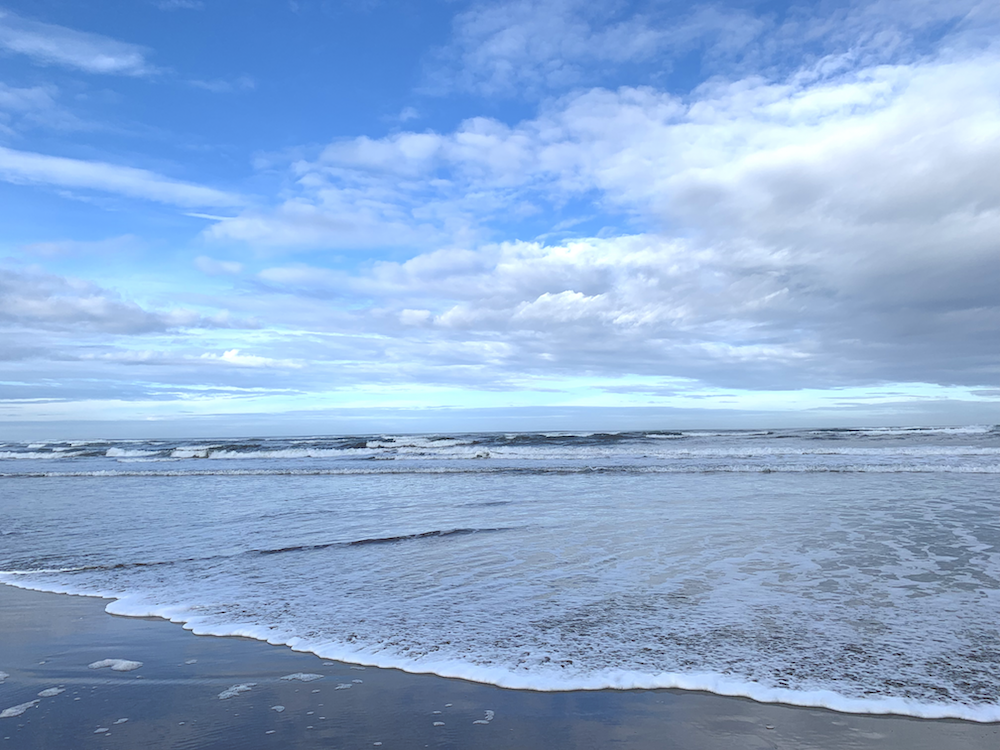 Many people speak about the power of the ocean that becomes more apparent when they are in its proximity. Absolutely true, the smallness of humans becomes glaringly clear, but it also reveals the lessons of the power of small change, small steps and how they can be significant.
We may not know how all of the small steps will add up: We don't know if a huge tree will wash ashore one day or a small sand dollar the next, but we choose to go out walking anyway, each day, on the beach and put our best foot forward and remain open to what life presents to us.
"We tend not to choose the unknown which might be a shock or a disappointment or simply a little difficult to cope with. And yet it is the unknown with all its disappointments and surprises that is the most enriching. In so many ways this island selects for me better than I do myself at home." ― Anne Morrow Lindbergh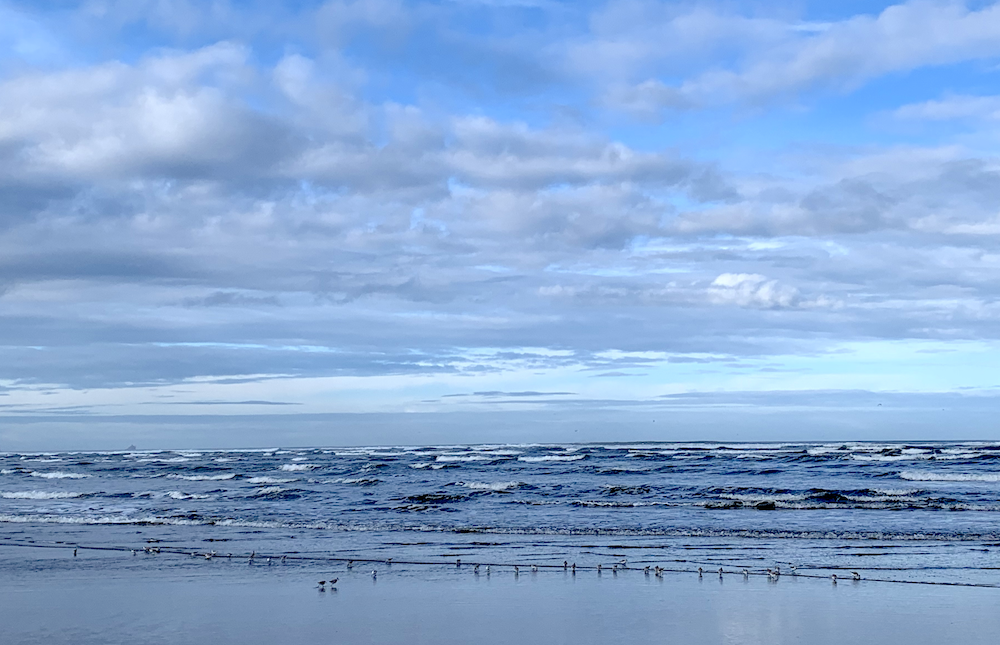 Watching the sanderling shorebirds each morning dance with the tide as they toodled about finding their next meal reminded me that we too need to dance with life. We may have a good idea of how the day will unfold, the month or the year, in other words the future, but we do not know all of the details, we do not know how the next weather front will change what food we will find. But if we are agile enough and keep an open-mind and a broad perspective, we will be just fine.
And even if a nosy, curious pup, such as Norman, wants to say hello, we will be able to quickly soar using our innate strengths to find temporary safety as we practice awareness. But then we must return and find the courage to follow our inner purpose, as Eckhart Tolle write in A New Earth. For our inner purpose will never change, so long as we know ourselves, even if the journey's details and outer circumstances are impermanent.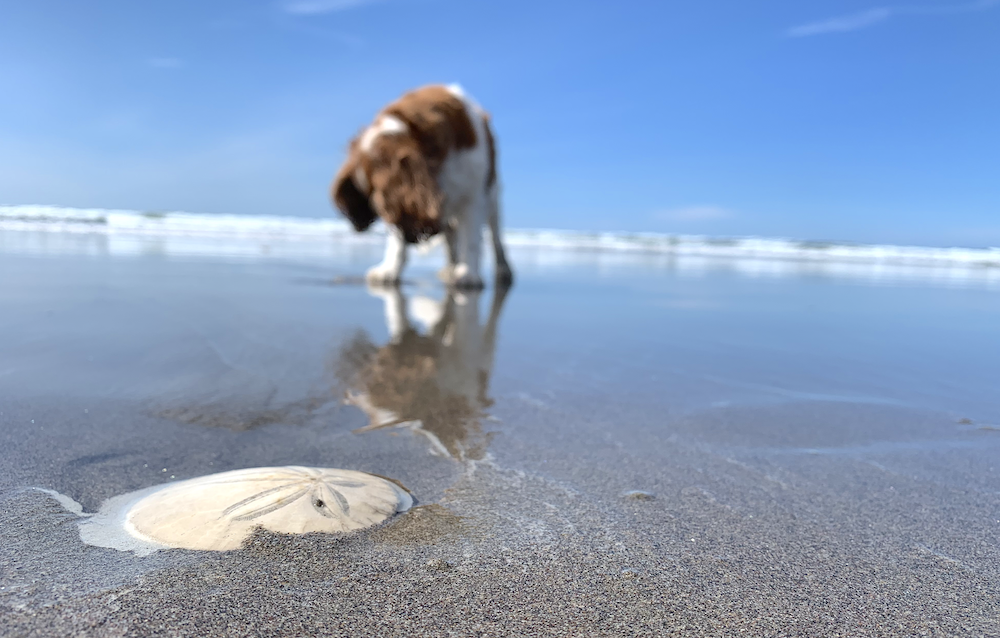 Wherever you find your most savored moments of solitude, I encourage you to take them regularly. In these moments we ground ourselves and remind ourselves of what is most important, how to navigate well for ourselves and those we love, how to embrace growth, change and opportunity.
Needless to say, I will not be waiting 17 months again to visit the Pacific Ocean, and in the interim, I will continue to find time to be with my own company and be reminded of the power of simplicity and the gift we give ourselves when we realize what true contentment ushers into our everyday lives.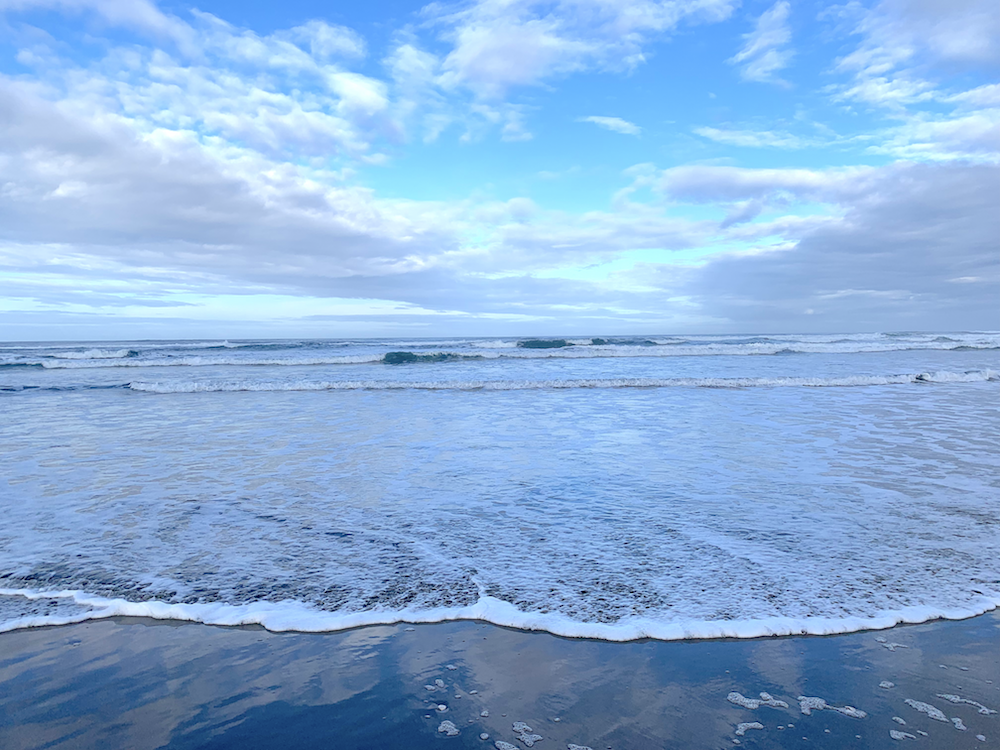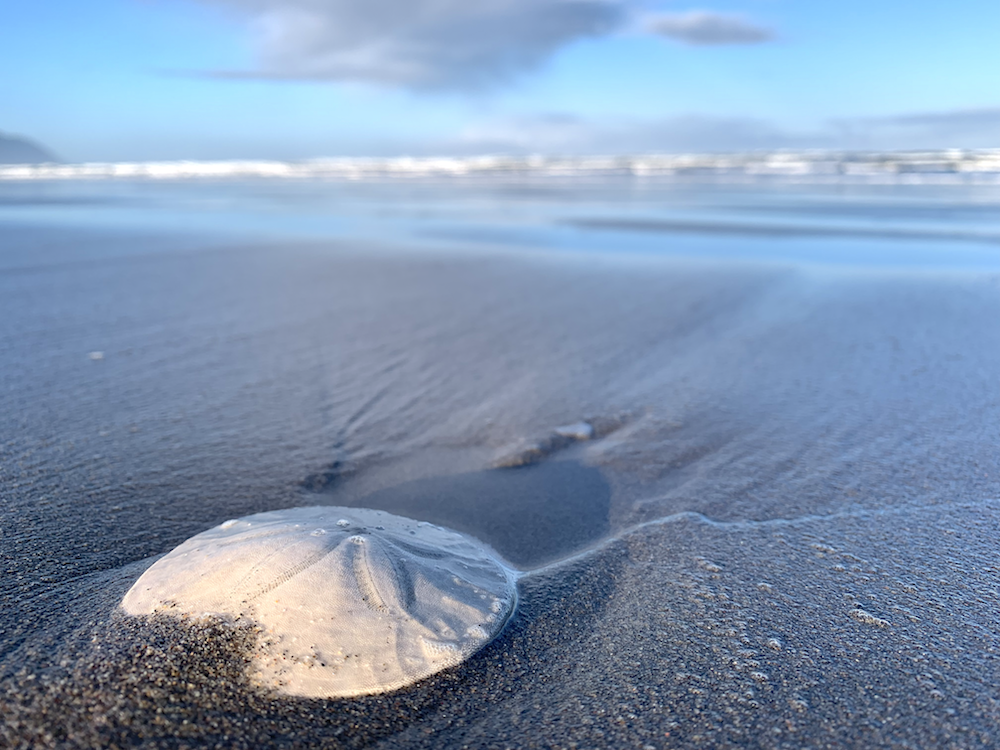 If you are looking for a moment with the sea, I would like to share with you a short video of these moments on the beach. Simply click here to be redirected to Instagram's Highlight Stories and for 30 seconds find a moment to breathe and savor the magic of Mother Nature.
~SIMILAR POSTS YOU MIGHT ENJOY:
~Why Not . . . Revel in Solitude?
~The Power of Solitude, episode #91
~Give Yourself the Gift of Contentment, Every Day, All Day, episode #244