TSLL Planner Online Shop
~To enlarge image and learn more about what each page offers (size, features, etc.), click on the image.
~Links should be delivered within 30 minutes of purchase. If you have received this email, check your junk/spam folders.
~Haven't received your links? Check your junk/spam folders. It will be a separate email (one from PayPal and one with your links).
—For Personal Use only
—Downloadable PDFs (3 downloads available per download)
—Designed for 3 different planner sizes: Franklin's Classic (5.5″ x 8.5″) and Compact (4.25″ x 6.75″) and the Filofax's Personal planner (3.7″ x 6.7″)
~REMEMBER: Download links within 48 hours of purchase and save to your computer to prevent expiration of links.
Ideas for use:
Print at home, double-sided (if your printer doesn't make this available, take to your local Kinkos/FedEx or Office Depot)

online orders are available from each of these businesses if you don't have a local Kinkos/FedEx or Office Depot

Cut each sheet in half
Take to your local Kinkos or Office Depot to make the necessary copies
Use a hole punch to align with your planner of choice.
If you prefer to make your own planner (without a binder), FedEx & Office Depot offer binding options.
~Click here for a detailed explanation and larger images of each of the TSLL Planner offerings.
All Inclusive Planner & Complete Planners include the following templates:
Cover page (personal contact info, address (email & physical), etc)

3 blank pages designated for quotes or inspiration to keep you inspired

2 page monthly calendar + monthly cover pages with monthly To-Do lists (personal & business)
Goals (short & long-term) planner
Capsule Wardrobe planner (spring/summer & fall/winter)
Lists pages (Places to Visit, Books to Read, Movies to See, Podcasts to Listen To, Plays to See & Music to Download)
Day planning pages (either one or 12 different illustrations)
Click on each package to see an enlarged image of the download and a detailed list of what each download includes.
Congratulations! You are now laying the foundation for cultivating your very own, uniquely designed and tailored to you simply luxurious life! Enjoy the amazing gifts that each day offers when we live consciously, appreciating the present, learning from the past and planning for our best future.
The exclusive illustrations, by name, available for your daily planning pages: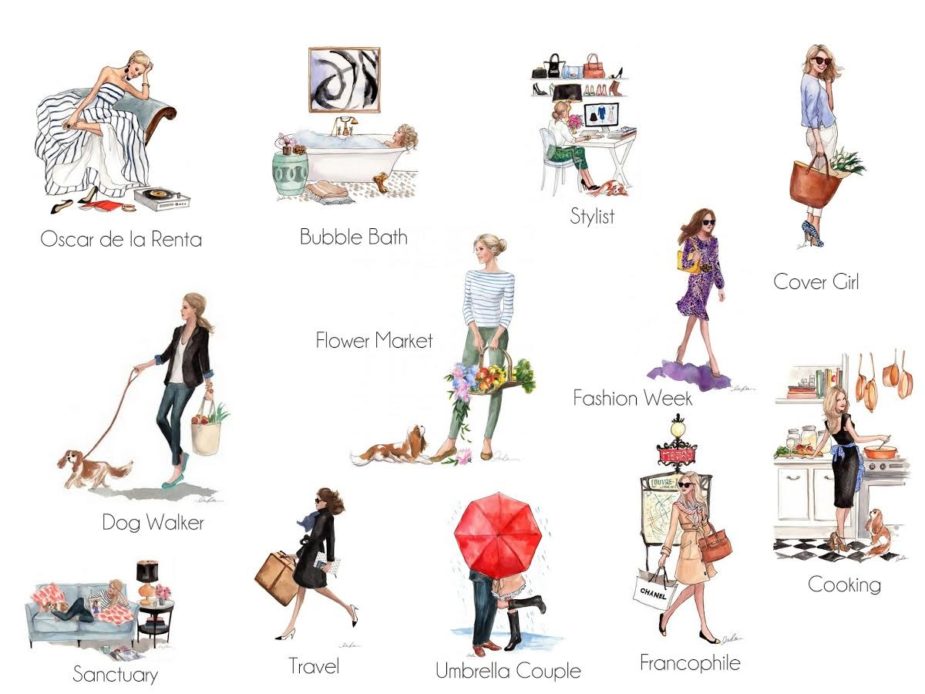 Showing 61–67 of 67 results