So many great sales for your wardrobe and your home, and I have scoured them for finds I recommend and love and think you will too. Explore more than 40 items from Nordstrom's Anniversary Sale, and from 1stDib's, I have found beautiful, unique signature consignment and antique finds for your sanctuary. As well, books! Books of fiction to take you to Europa, books about travel, thinking and money. As well, two series return this coming week – one for Anglophiles and one for Francophiles, a new online décor class, the first for this well-known and highly revered British interior designer, a hard-to-find birdfeeder for my fellow amoureux dex oiseaux, plus, yep, much more. 🙂
Books
—Freedom to Think: The Long Struggle to Liberate Our Mind by Susie Algre
With the hardback version becoming available this week, human rights lawyer Susie Alegre's book Freedom to Think "explores how the powerful have always sought to get inside our heads, influence how we think and shape what we buy … Freedom to Think charts the history and importance of our most basic human right: freedom of thought. From Galileo to Nudge Theory to Alexa", and as indicated in this list, it is an age-old struggle to be able to discern when we are thinking for ourselves and when we've been nudged due to an algorithm or its historical equivalent to shape our everyday thoughts and actions, from dating to voting and everything in between. Knowing how influence of other sources plays a role in our lives can bring peace of mind and tools to ensure peace of mind.
—Grand Hotel Europa: A Novel by Ilja Leonard Pfeijffer
Multiple critics from The New York Times Book Review to The Financial Times are raving about the book (translated now in English) written by Ilja Leonard Pfeijffer, Grand Hotel Europa. "A writer takes up residence in the stately but decaying Grand Hotel Europa in order to contemplate where things went wrong with Clio―an art historian and the love of his life".
—Imagine A City: A Pilot's Journey Across the Urban World by Mark Vanhonacker
A Boeing airline pilot for British Airways, Mark Vanhonacker's book is worth exploring, and while an excerpt inspired Monday's podcast episode (#333) of The Simple Sophisticate about jet lag, it is his twenty years of soaring and staying briefly in cities around the globe that share in his part memoir, part travel book what he celebrates in "the cities he has come to know and to love, through the lens of the hometown his heart has never quite left. As he explores emblematic facets of each city's identity— the road signs of Los Angeles, the old gates of Jeddah, the snowy streets of Sapporo—he shows us with warmth and fresh eyes the extraordinary places that billions of us call home".
—Money in One Lesson: How It Works and Why by Gavin Jackson
Released this past April, and with all that is happening as economies shift and turn, dip and rise, simply understanding a bit more about money is a great idea. "In a slim volume of roughly 180 pages, Money in One Lesson will answer the most important questions and clarify for the reader what money is and how it shapes our societies. It will provide a basic understanding of public spending, interest rates and financial markets".
—Six Walks: In the Footsteps of Henry David Thoreau by Ben Shattuck
For fellow Transcendalist curious readers or simply fans of Henry David Thoreau :), this book takes readers on the same trails and hikes as the 19th century writer Thoreau. "Over years of following Thoreau, [Ben] Shattuck finds himself uncovering new insights about family, love, friendship, and fatherhood, and understanding more deeply the lessons walking can offer through life's changing seasons".
British Finds
—Grandchester, Season 7 on Masterpiece
Premiering this Sunday on PBS, Grandchester returns on Masterpriece. Take a look at the trailer below.
—Kathryn M. Ireland's Artfully Edited Interiors Create Academy Course (online)
I have talked many times about the Create Academy course I took in 2020 by Rita Konig, and the site continues to add new courses taught by respected experts in their fields of design, gardening and more. Now available is a new interior decorating course by an interior designer who designs with a British cottage approach (love how she mixing and matches prints), Kathryn M. Ireland. If you have never paid for one of CA's courses, along with receiving all of the videos (this course as 24, and you can view the first one for free to decide), you have access to them for life. They do not expire. Consider it a library of a resource you can always return to.
As for who Kathryn M. Ireland is, have a look at her website here. She has decorated so many beautiful homes (this one was one of my favorites), and has a penchant for cozy, layers and fun with artful, playful touches (but not too much – there is a sense of sophistication about it, and I don't know how she does it, but I love it). Anyway, I am considering taking this course. I think it would be a fun fall activity to savor when snuggled in at home.
Décor
In 2020 I shared 10 different brands and websites I shop for my own British Cosy Cottage décor and one site is 1stDibs. I found a couple of antique items (one was my cookbook stand from 19th century Provence that you see in my kitchen – left side of the IG pic below – so grateful for this find) and welcomed them into Le Papillon at great prices, and today and this weekend 1stDibs is having a sale. Now, items are not always cheap, but they are high quality and worth exploring and bargaining for if it is what you want. I have shopped a few items below from vases, to trays and even a beautiful oak table.
Oak Oval Dining Table with Tapered Spindle Legs
SHOP THE SALE:
Francophile Finds
—Cherif, season 5, MHzChoice
I have thoroughly been enjoying this French series on MHzChoice. Set entirely in Lyon, France, Cherif is the last name of one of the two Captains that solve crimes and happen to be falling in love with each other. The first season isn't the strongest, but I have found the series all the more well done as it moves forward with its character development and plot twists and turns. The fourth season just wrapped up (view a trailer of that season below), and next week, on July 12th, the 5th season will become available for viewers through the streaming service MHzChoice (which I view through Amazon Prime). Adeline, [Kader] Cherif's partner (at work), is one of my favorite characters of all French crime series – she is strong, intelligent, private and good at her job. Needless to say, she is a primary reason I am recommending the series. I do hope you enjoy.
Garden
—20″ Premium Bird Feeder w/seed tray
Finally, finally, finally! I have been looking for a replacement for one of my bird feeders, and finding a copper one that has a seed tray (as seen here – I also call it an extended stand for the birds as they love to hang out in it and dine) is not a simple task. But I found one! And it's available for fewer than $20.
Shopping
—Haremlique Bodrum Travel Bag and Raffia Beach Bag (with leather straps)
A luxury of a tote, both of these bags from Haremlique will be lifetime items to have.
—Jenni Kayne Cotton Oversized Boyfriend Sweater (ivory)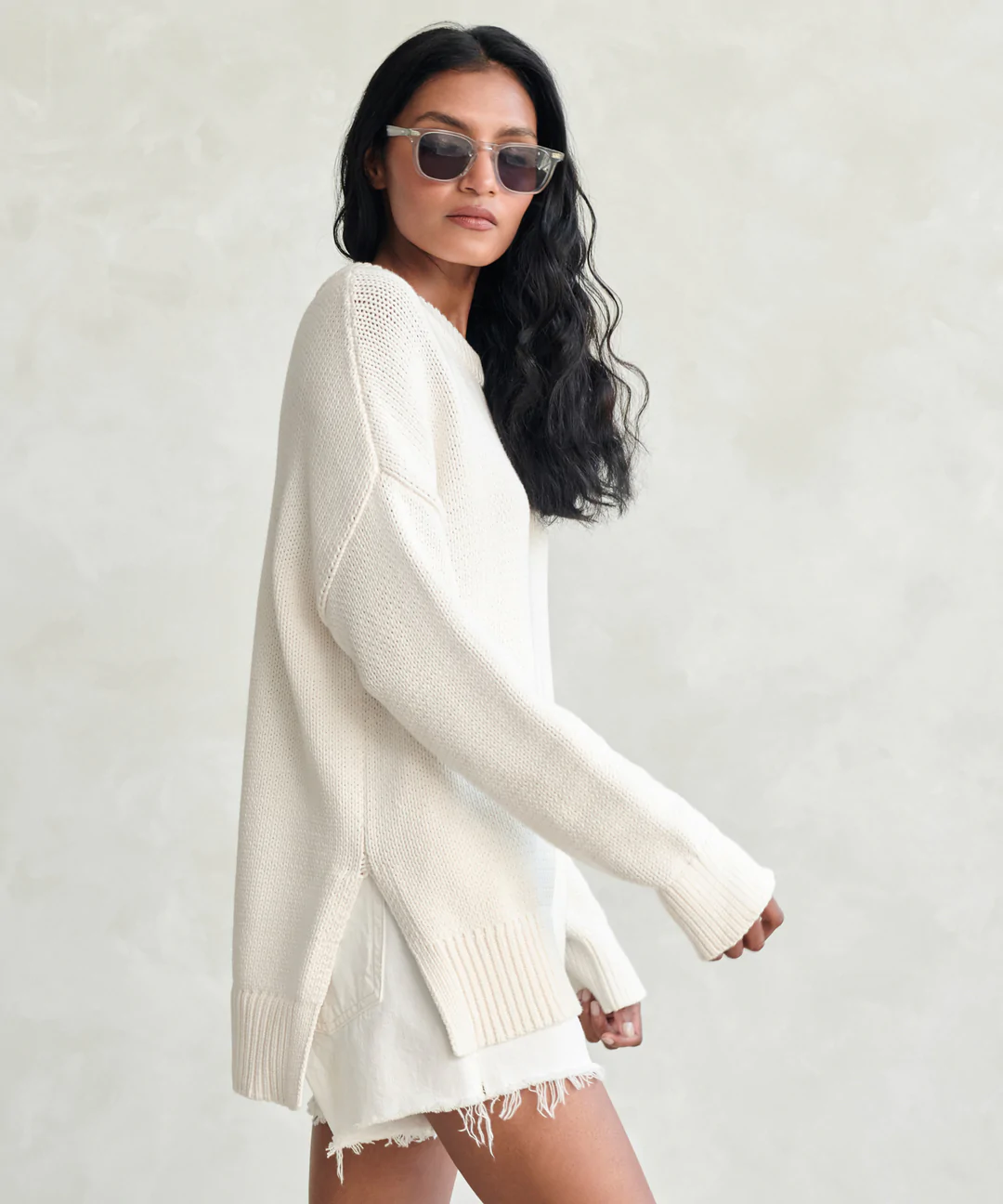 The ocean, the beach, is calling, and this sweater, oversized, cotton and cozy, would be the perfect item to wear over and over again with a pair of boyfriend jeans for strolls on the sand. One is coming into my closet for a trip later this summer, and perhaps you will want one too (black is also available).
—Nordstrom Anniversary Sale, Previews begin
Beginning on Saturday morning, July 9th, cardmembers can begin to shop the annual sale. I have taken some time to peruse the offerings for you, and shared my favorites below, as well as spotlighted a few – from upper left, moving clockwise: this Stagg electric kettle immediately captured my attention – chic, efficient and necessary – tea!, a chic, tidy travel jewelry case – love the quilted exterior, Tumi's new color of luggage, if you'r looking to try Dr. Sturm's anti-aging products – the duo below are two items I use and have found to be wonderfully hydrating (and they are on sale!), Hunter's refined Original Rain boot in Olive Green (black available as well), Veronica Beard's Chelsea boots in multiple colors is an awesome price – not to miss, the red Reiss sweater dress is just yummy, if it were in a different color, I would welcome it into my closet, and Longchamp's toiletry bag – many colors available – a great find as they are well made products) but be sure to shop the entire site here.
~Longchamp Le Pliage Toiletry Case (more colors)
Home & Beauty Finds
~Clothing
—Reiss Camel Kaleigh Knitted Hybrid Day Jacket (summer sale)
It is very difficult to shop for fall and winter items when we find ourselves in the middle of summer, but when a great sale takes place, we can save quite a bit of money if we know what we need, love and want, and take advantage of the discount. Such was the case when Reiss' summer sale began last week. I wrote and shopped a detailed post sharing more than 30 items and putting them into outfits for TSLL readers earlier this week (check out the post here).
As someone who regularly walks my dogs and lives in Bend which has inclement weather in the chillier months, when I go on shorter walks or on errands, I want to be warm, but look as stylish as possible. This jacket caught my eye immediately. Reduced $100, it's oversized funnel neckline, slim fit and warm fabric pairings, along with the neutral color tone that works well with my capsule wardrobe, I snapped up one for my closet. I won't be wearing it for more than a few months, but I cannot wait when I will be able to.
---
As I type, le Tour de France is playing in the background. I am a day behind, so catching up on yesterday's ride, and enjoyed watching the women's semifinals at Wimbledon last night – the first one especially was a treat to watch – such a fantastic example of athleticism, sportsmanship and good-will. Both events have been a treat to watch – did you see Nadal's victory in the Quarterfinals? Needless to say, my weekend plans after tending to chores, gardening and walking with Norman will be watching the Championships and then slipping away to France. 🙂
A week of cooler temperatures, a spectacular hail storm over the past weekend followed by beautiful double rainbows (did you know there is always a double rainbow, we just cannot always see it? Yep!), and a quick trip to Portland which is where I captured the hydrangea above (mine won't be blooming until August :)). Norman and I have been doing well and finding time to sit on the front porch whilst swinging in the swing (I sit, he explores in the garden ;)), sipping a morning cuppa and watching the sunrise while the birds dine at the cafés. A leisurely summer has begun, and I hope you too are finding time to put your feet up, relax, savor and just be.
If you are reading TSLL's 3rd book – The Road to Le Papillon, the chapter that is July is all about France, so if you too are not able to be in the country we share an affection for, be sure to explore each of the entries to transport yourself to a country I cannot spend enough time in, and perhaps you cannot either. 🙂
I want to thank all of the readers who have taken the time to leave a review sharing what they enjoy about the book. You can view a handful of them here. And look for a post in the coming weeks to share news of TSLL's upcoming 7th Annual French Week.
Speaking of travel, this past week's new podcast episode was all about lessening the effects of jet lag, and it was one of the three new episodes that will be shared this month (typically only two new episodes go live each month).
Also, I shared on IG Stories, and want to make sure I bring it to all TSLL readers' attention, that if you have been considering becoming a TOP Tier Member, be sure to do so before January 2023. Prices will be going up in six months, but if you Activate your Membership (TOP Tier or BASIC Tier) before the change occurs, you will lock in your price for the duration of your Membership. You can learn all about the benefits and exclusive access of becoming a Member of TSLL Community here. And just to ease your mind, if you already are a Member, your price (so long as you keep your Membership Active) will not change when the prices go up for New Membership in January 2023.
And now to the weekend. Below are more than a few articles and posts you might enjoy, and one video that has me quite excited for what looks like a wonderfully fun film to enjoy this fall. Thank you for choosing to stop by today, and until Monday, bonne journée.
~A thought-provoking article written by a Le Monde columnist through the lens of the French culture about how to work with tourism if your economy depends upon it, but you want to ensure enjoyment for those who visit.
~I am thoroughly enjoying watching Wimbledon which began on July 29th, and it was while watching mixed doubles with Venus Williams and Jamie Murray that I found this article to share so many truths about what is a joy to watch – Doubles Tennis Is Wimbledon's Best Kept (and Most Fun!) [NyTimes]
~Photographer Jamie Beck captured beautiful images for this article in CNTraveler – How a New Generation of Locavores is Championing France's Luberon Valley (love this part of Provence as I had the good fortune to stay there for a handful of days in 2018).
~A new-to-me blogger, Jules Acree shares a Slow Day in the Life in a video that embodies sustainability, mindfulness, and self-care.
~Four benefits of microbreaks throughout your work day [LifeHack]
~I appreciate France's effort to nudge people away from their desks to thoroughly enjoy lunch. [NPR]
~A heads up – French Dijon mustard supply is short stock and prices rise as a result [The Guardian]
~One more heads up if you are traveling to France this summer – flight cancellations at Charles de Gaulle caused by workers' strike [EuroNews]
~For Anglophiles! It has been quite a few years, but finally Big Ben Bongs Will Soon Ring Out Across London [NyTimes]
~Speaking of construction on favorite sites, back to Paris and Notre Dame – see how it's going and how it will change when tourists are welcomed back. [NYTimes]
~37 Small living room ideas full of inspiration [House & Garden UK]
~How to identify your core needs in a relationship [Life Hack]
~Something to make a note of as we look to travel in the coming year. By May 2023 you will need to do one more (quite small and inexpensive) thing before heading to France. [Etias.info] What does Etias stand for? Here you go — European Travel Information and Authorisation System
~What is rest? Well, here are some thoughts on how you really rest [Medium]
~Only Murders in the Building fans, a bit of history on the actual building (which the exterior is situated on the Upper West Side, and the interior is a different building all together, but there is so much more that is quite interesting to know). [NYTimes]
~A podcast episode that came recommended to me and now I want to pass on to you, from Brené Brown with guest Karen Walrond, Accessing Joy and Finding Connection Amidst the Struggle.
~So true! So true! We find what we look for (this includes our thoughts as well). [Austin Kleon, Medium]
~And let me end with a preview of a film that is set to be released this fall. Set in London (you'll even see a few scenes in The Savoy – that entry!), a spoof of sorts on mysteries and starring quite a talented cast. Have a look at the trailer of See How They Run. Looks like fun to me. 🙂
---
~Explore last week's This & That: July 1, 2022
Get your summer outdoor space ready with a timeless bistro table, discover books of all sorts – capers, food and flavor combinations, and the history of Arts & Crafts décor. An annual favorite French event kicks off, summer sales continue, a new Anglophile film to check out, and still, there is more.
~Please note: TSLL is supported by you, readers who take the time to stop by (merci!), peruse and sometimes welcome into your life mentioned and recommended finds. Affiliate links are present in today's post and may earn commissions for TSLL when you purchase. View TSLL's full Privacy Policy here.